Floridian Clinical Research is a leading provider of independent clinical trials. We specialize in conducting clinically and operationally complex studies with unsurpassed data integrity.
Floridian Clinical Research has been consistently named among the top enrolling sites in the US for 2 separate Diabetic Kidney Disease trials
We're looking for study participants. A decision to participate may not only bring you hope but also benefits public health and advances medical knowledge.
Floridian Clinical Research is a multi-specialty clinical research facility located in South Florida, focused primarily on Phase I through IV clinical trials.
There are many perks of participating in our facilities, between them you may find a proven track record with various, fast paced pharmaceutical companies, you can count with experienced staff members and state of the art laboratories on-site including PBMC.
We also make available to you a robust database and many outreach centers in the community in addition to extensive pharmaceutical services  and capabilities.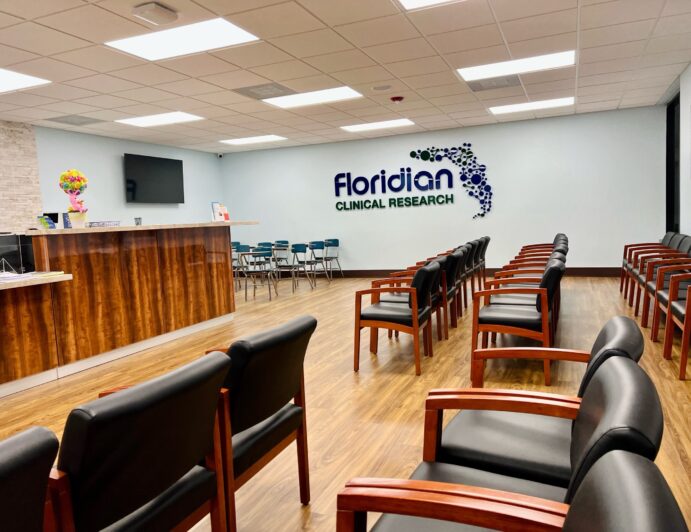 We are the top enrolling site in the US for a study of a novel HIV treatment that has been granted Fast Track Designation by the FDA.
Experience in recruiting special populations and accelerating start-up and enrollment: Recently a sponsor approached us to assist them in recruiting enough hypogonadal volunteers for a time-critical bioequivalence study. We successfully pre-screened 113 volunteers in a period of 7 days; we identified 72 hypogonadal men that met the inclusion criteria for the study. The study required 44 subjects to be available for randomization (40 subjects to receive study drug plus 4 alternates). The sponsor had very strict timelines for recruitment; we went from contract execution to completing dose administration for 40 subjects in a matter of just 31 days!! 40 subjects received study drug during 4 separate treatment periods; 38 subjects completed 100% of the study visits. Floridian Clinical Research completed the study on time, on budget, and with a 95% completion / patient retention rate.
We have an amazing team of dedicated Board-Certified Principal Investigators and Sub-Investigators in the following specialties:
By choosing to participate in a Floridian Clinical Research study you are making a
contribution to the advancement of medicine and science and making a potential impact on
the quality of life for millions of people.
Please contact us at:
14791 Oak Lane
Miami Lakes, FL 33016
Tel:(305) 330-9977
Email:[email protected]